Page 5 - Volunteer Induction Program
P. 5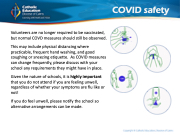 COVID safety
  Volunteers are no longer required to be vaccinated, but normal COVD measures should still be observed.
This may include physical distancing where practicable, frequent hand washing, and good coughing or sneezing etiquette. As COVID measures can change frequently, please discuss with your school any requirements they might have in place.
Given the nature of schools, it is highly important that you do not attend if you are feeling unwell, regardless of whether your symptoms are flu like or not!
If you do feel unwell, please notify the school so alternative arrangements can be made.