Page 15 - Volunteer Induction Program
P. 15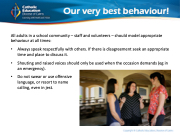 Our very best behaviour!
All adults in a school community – staff and volunteers – should model appropriate behaviour at all times:
• Always speak respectfully with others. If there is disagreement seek an appropriate time and place to discuss it.
• Shouting and raised voices should only be used when the occasion demands (eg in an emergency).
• Do not swear or use offensive language, or resort to name calling, even in jest.