Page 12 - Volunteer Induction Program
P. 12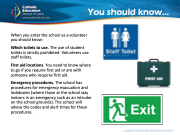 When you enter the school as a volunteer you should know:
Which toilets to use. The use of student toilets is strictly prohibited. Volunteers use staff toilets.
First aid locations. You need to know where to go if you require first aid or are with someone who requires first aid.
Emergency procedures. The school has procedures for emergency evacuation and lockdowns (where those at the school stay indoors in an emergency such as an intruder on the school grounds). The school will advise the codes and alert times for these procedures.
You should know...