Page 11 - Volunteer Induction Program
P. 11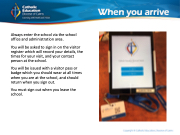 When you arrive
 Always enter the school via the school office and administration area.
You will be asked to sign in on the visitor register which will record your details, the times for your visit, and your contact person at the school.
You will be issued with a visitor pass or badge which you should wear at all times when you are at the school, and should return when you sign out.
You must sign out when you leave the school.