Page 9 - Volunteer Induction Program
P. 9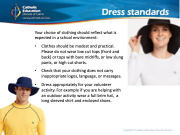 Dress standards
Your choice of clothing should reflect what is expected in a school environment:
• Clothes should be modest and practical. Please do not wear low cut tops (front and back) or tops with bare midriffs, or low slung pants, or high cut shorts.
• Check that your clothing does not carry inappropriate logos, language, or messages.
• Dress appropriately for your volunteer activity. For example if you are helping with an outdoor activity wear a full brim hat, a long sleeved shirt and enclosed shoes.