Page 40 - Volunteer Induction Program
P. 40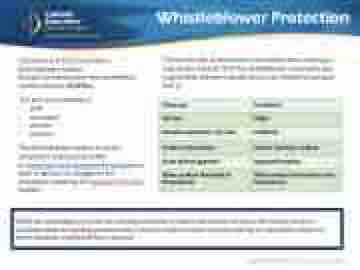 The Diocese of Cairns provides a Whistleblower Hotline
through an independent and confidential service provider, STOPline.
This service is available to • staff
• volunteers
• parents
• students
The Whistleblower hotline is not for complaints or grievances (refer
to Complaints and Grievance Procedure) nor does it replace our obligations for mandatory reporting for Student Protection matters.
The specific role of the hotline is to receive items relating to 'reportable conduct' that the whistleblower reasonably and in good faith believes includes (but is not limited to) conduct that is:
Whistleblower Protection
    Dishonest
Fraudulent
Corrupt
Illegal
Breaches legislation / by-laws
Unethical
Unsafe work practice
Serious improper conduct
Gross mismanagement
Repeated breaches
Other conduct that leads to financial loss
Other conduct that leads to non- financial loss
               While we encourage you to use our existing processes to report and resolve concerns, the hotline service is available when our existing processes have not been able to resolve an issue relating to reportable conduct or where absolute confidentiality is required.