Page 38 - Volunteer Induction Program
P. 38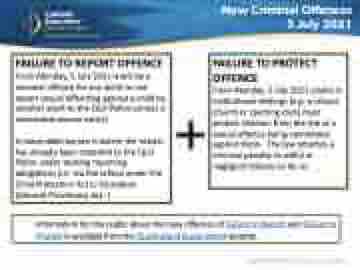 New Criminal Offences 5 July 2021
 FAILURE TO REPORT OFFENCE
From Monday, 5 July 2021 it will be a criminal offence for any adult to not report sexual offending against a child by another adult to the QLD Police (unless a reasonable excuse exists)
A reasonable excuse is where the matter has already been reported to the QLD Police under existing reporting obligations (i.e. via the school under the Child Protection Act or Education (General Provisions) Act. )
 FAILURE TO PROTECT
OFFENCE
From Monday, 5 July 2021 adults in institutional settings (e.g. a school,
church or sporting club) must protect children from the risk of a sexual offence being committed against them. The law attaches a criminal penalty to wilful or negligent failures to do so.
  Information for the public about the new offences of Failure to Report and Failure to Protect is available from the Queensland Government website.