Page 20 - Volunteer Induction Program
P. 20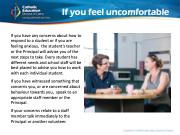 If you feel uncomfortable
If you have any concerns about how to respond to a student or if you are feeling anxious, the student's teacher or the Principal will advise you of the next steps to take. Every student has different needs and school staff will be best placed to advise you how to work with each individual student.
If you have witnessed something that concerns you, or are concerned about behaviour towards you, speak to an appropriate staff member or the Principal.
If your concerns relate to a staff member talk immediately to the Principal or another volunteer.